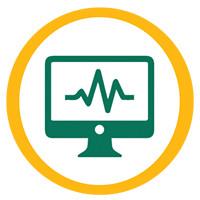 Clinical and operational solutions for exceptional patient care, community safety and efficiency
Zoll Reporting Software Solution provides several best-in-class clinical and operational reporting tools for emergency medical service teams.
ZOLL emsCharts provides dynamic and comprehensive patient care reports to ensure that EMS personnel are keeping an accurate record of every patient that they interact with. The cloud-based reporting system allows EMS agencies and first responders to access and report client information in real-time, all within a simple, easy-to-use interface.
Incomplete records can put patients at risk, further causing compliance and billing issues down the line for healthcare professionals and providers. ZOLL ePCR EMS reports integrate with operational systems to streamline workflows and ensure duplicate data isn't being collected, whether it be contact information, incident reports and more.
ZOLL Fire Reports  provides comprehensive data collection from multiple sources to ensure that records and reports are stored securely and accurately.
Pre and post-incident reporting provides fire departments with the necessary information to respond to incidents in their area. ZOLL  Fire Reports allows you to manage every aspect of your department. This includes data collection on incidents, patients, permits and more.
ZOLL software solution pulls data from multiple sources including EMS providers, health services and more to ensure NFIRS and HIPPA compliant and secure records are stored.